Eco Designer

TITANIA INGLIS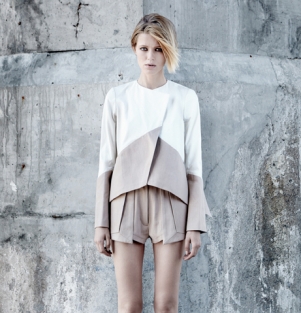 Philosophy
Less, but better. Lush minimalism is both our aesthetic and core principle: stylish dressing as a guiltless pleasure. Evoking the quietly devastating beauty of the wilderness and the dark bravado of rock 'n' roll, Titania Inglis garments are engineered to be visually striking, yet easy to wear: dresses, jackets, separates, handbags, and jewelry with practical details that go easily from day to night, summer to winter, and sometimes metamorphose with a trick of geometry.
Equally minimal is the line's environmental impact. Each garment is sewn in a small, family-owned factory in New York from high-quality, low-impact fabrics including Japanese organic cotton, Italian vegetable-tanned leather, and dead stock wool from the local garment industry. New styles are wear-tested to guarantee a flattering, comfortable fit and sturdy construction, ensuring that these un-basic pieces will be wardrobe staples for years to come.
Titania Inglis designs are sold in select boutiques across the US and Europe. They have been featured in Elle, Women's Wear Daily, and the New York Times and worn by musicians including Charli XCX, Chelsea Wolfe, Kim Gordon, Meredith Graves, M83, and TLC. Beyond clothing, Titania Inglis has engendered multidisciplinary creative collaborations with members of the Merce Cunningham Dance Company, jewelry designer Bliss Lau, and Zola Jesus.
Zur Website von TITANIA INGLIS »
Bitte vervollständigen Sie die rot markierten Felder.