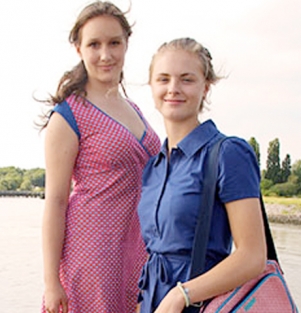 froy & dind is a Belgian fashion and home decoration brand for adults, children and newborns created with passion by Froya and Adinda. The Antwerp lifestyle label was born in 2008 out of a long friendship, a similar taste and a common search for original products with colorful patterns that describe a world of joy and happiness.
Froya and Adinda met each other in art school and because they had to share a drawer for their work, they soon discovered it to be very much alike. Bubbling with ideas they happily designed for family and friends and parties, always inspired by their own childhood, their children and their collections of nostalgic
little treasures.
In 2008 they decided to go for it. Their humble first collection of three postcards 'kers op de kaart' became a success. More postcards, completed with badges and magnets, found their way to 80 selling points throughout the Benelux and France.
In September 2009 they exhibited twenty different tin boxes in four different shapes in the Netherlands and in Paris(Maison & Objet). Their own houses became too small for the logistics so they bought a warehouse and decided to quit their regular jobs to cope with the work load.
In 2010 the range of tin products grew and notebooks made of 100 % recycled paper were added to the collection. At this point, Adinda's husband Arne became part of the company to deal with the logistics. Froy & dind exhibited at fairs in Paris, Amsterdam, Utrecht, Denmark, Germany, London, New York, Tokyo to name a few. The number of shops selling their brand grew even further.
Again, the warehouse became too small in 2011, forcing them to move to a bigger place and taking the opportunity to install their offices (until then at their homes) and their first showroom under one roof. Also, the first collection of basic family wear is produced according GOTS certificate, which means every step from farmer to the end product is carefully checked, both ecologically (use of organic cotton) and socially (working circumstances and wages). By that time, froy & dind are not only shown on decoration fairs but also represented on fashion fairs in Amsterdam, Stockholm, Copenhagen, Paris, Hamburg, London, Oslo, Frankfurt and Utrecht.
In 2012 froy & dind started to work with agencies to cope with the explosive growth of products and selling points. They also produced a summer and a winter collection in jersey fabric.
They successfully introduced a wide range of fashionable bags and completed their range with a coloring book, a birthday calendar, memory and domino games, and puzzles. High time now for Mark, Froya's husband, to join the company to take care of pictures, catalogues, website, printing and all technical matters.
In 2013 a velour children collection, a fine cotton baby care
collection (both GOTS certified), small and large shoppers, jewelry, pen sets, sharpeners, notebooks, drinking bottles and more found their way to the public. In the spring they opened a small shop in Antwerp and in October a new web shop was launched. The agencies are now working all over the world, adding Japan, Australia, Scandinavian countries, Israel, Switzerland … to the distribution area. The offices and the showroom moved to a beautiful new location in the center of Antwerp. Three new members joined the team: Lila to assist Arne, Siel to take care of the company's administration and Bea to run the shop.
Bitte vervollständigen Sie die rot markierten Felder.