Eco Designer

ELSIEN GRINGHUIS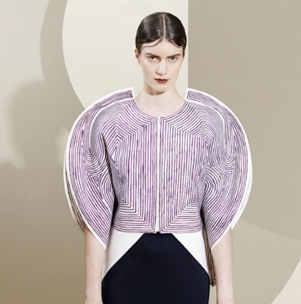 The design principal is completely based on sustainability.
Form, function, material and finishing all contribute to a maximum performance fashion product;
wearable, functional and contemporary.
Designs with a long life span due to their quality.
The focus is on highly innovative patterns reducing the waste to the max.
Elsien is passionate to introduce new definitions for craftsmanship and sustainability.
"A functional and well thought out design makes me very happy.
All good things are simple, but there is nothing more difficult than
to make a good and simple design."
Elsien Gringhuis graduated Cum Laude at the academy of visual arts in Arnhem (ArtEZ).
She won the Createurope in Berlin, the Mittelmoda in Italy and was nominated for the Frans Molenaar-award.
In 2009 Elsien presented her first collection during the Amsterdam Fashion Week.
In 2011 she won the Green Fashion Competition followed by the Fair Luxury Award in 2012.
Zur Website von ELSIEN GRINGHUIS »
Bitte vervollständigen Sie die rot markierten Felder.