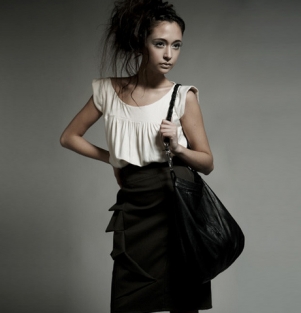 What is Elroy?
We tend to forget how even the littlest things can have a major impact on us all. Believe it or not, clothing has the ability to connect us to places and people all over the world. Before it makes it into your closet, those garments already have a story to share. Where do they come from? How were they made, and what are they made of? Who were they made by? It is not always easy to find these answers. And there are many times when we learn the real truth behind a garment's history, and it is a truth we would rather not know.
Elroy was created with the story in mind. We want you to know all about the sourcing we do and the artisans that put each piece together. Our company's intent is to support fair trade markets in areas of low income and unemployment. Hand-in-hand our designer works with small developing communities in Indonesia, where she began a sustainable employment project in 2009. Here, a grassroots sewing cooperative was established, using sustainable, organic or upcycled materials sourced right in their backyard. These actions ensure we are able to fully support the community and its people from the start to the finish of each garment. By manufacturing where and how we do, we help to alleviate poverty and provide opportunities for those in economically challenged areas.
Partnering with talented tailors and knitters, skills are taught, developed and shared, and Elroy's fair trade story is brought to you each season.
We at Elroy have a strong desire to make a difference, one garment at a time. As a company we focus to remain committed and respectful to our environment, our production team and to our clients. There can be hope in the fashion world after all.
Known for soft, luxurious and eco-friendly fabrics, and versatile, fun and feminine styles, the Elroy brand has progressed (since its inception in 2007) into a full range of tops, bottoms, dresses, jackets, accessories and sweater knits. Share the story, and support what you know. What story does your clothing carry?
Bitte vervollständigen Sie die rot markierten Felder.