Eco Designer

Beaumont ORGANIC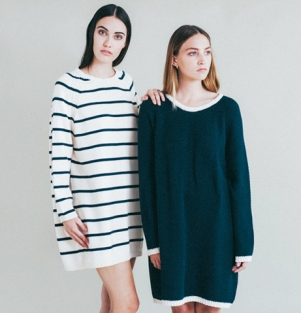 Our Clothes
As a Contemporary company we thoroughly encourage the idea and lifestyle of investment buying rather than needless spending on disposable fashion. Spending a little more on quality, luxury pieces that will last a lifetime is our ethos and helps towards a more sustainable and responsible future for the world of fashion.
Clean, classic and timeless shapes inspire our collections, producing easy to wear pieces that make great statements, or perfect layering pieces. Inspired by simplicity and strong women, our customer is a professional, yet worldly and creative woman who is striving for a better future for our planet.
Our Fabrics
Luxury, beautiful, and so soft to the touch… our fabrics are sourced within the UK and EU. This allows us to be able to trace the history of the fabric that we are using, this allows us to ensure that there were no harmful process' undertaken as part of its manufacture.
Fair-trade Organic Cotton
We produce our organic cotton clothing in Porto in Portugal, using small and family run businesses that are guarded by strict EU regulations, enforcing fair wages and safe working environments.
Organic cotton is produced without the use of harmful pesticides and synthetic fertilisers, it encourages natural bio-diversity within soil and healthier production of cotton plants. Our Cotton is what is called 'dual certified' or 'gold standard' which also means that it is fair-trade, this lets farmers take more control of their working lives and production of their crops, with fair wages and working conditions.
When we transport our production over to the UK and International customers we ensure the use of vans and not planes, reducing air mileage and doing our bit to help reduce our carbon footprint.
Made in England
In 2014 Beaumont Organic branched out to produce some fresh and exciting pieces that are made in England. A small, family run business based in Stockport, Manchester have helped us go even more sustainable and make products on our very own doorstep.
Producing our clothing so close to home really allows us to keep our finger on the design pulse, by being able to communicate with our manufacturers weekly, face to face, keeps our ideas exciting and luxury quality.
We are so excited about this new venture and hope you love these fair-trade pieces as much as we do.
Zur Website von Beaumont ORGANIC »
Bitte vervollständigen Sie die rot markierten Felder.