Eco Designer

Ayten Gasson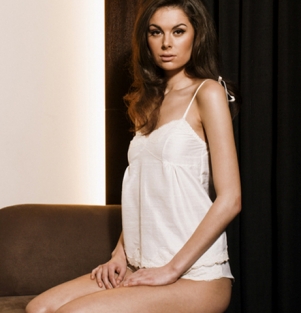 Launched in the summer of 2005, luxury lingerie label Ayten Gasson has become recognised in the UK not only for its beautiful collections, but also for its firm commitment in supporting the UK fashion industry. Every piece from each collection is proudly designed and made in the UK.
Growing up with a family full of designers and makers, creative director Ayten Roberts knew the importance of well made pieces and the history and skill in British manufacturing. Ayten's mother had worked as a seamstress for Arcadia in the early 1990s and she remembers her grandmother working in a north London factory producing clothing for at least 30 different designers each season. Upon graduating from Central Saint Martin's in 2004, Ayten was disheartened to find the closure of many of the UK based manufactures and design houses. All design jobs had moved to Europe while the London factories she knew as a child had all closed as designers now searched for a cheaper alternative overseas
As an independent British designer Ayten felt it was vital to support the industry around her. Each link in the chain was considered, from the lace and trim supplier, the factories she worked with and continue to work with, and the independent boutiques she sold to.
Vintage lace trims from the old lace mills in Nottingham have been sourced to highlight the incredible skills which the area was once famous for. And new English lace is sourced from companies based in the UK to support the few people still manufacturing. Lace is also sourced from UK lace mills that are still able to produce their designs in the UK, such as Cluny lace, who designed and made the lace used in Kate Middleton's wedding dress in 2011.
With the help of the Prince's Trust, Ayten launched the lingerie label with a firm commitment to supporting other UK businesses and highlighting the traditional skills which the UK was once celebrated for. To this day Ayten Gasson continues to utilise and support the UK fashion industry by producing every item, from garters to teddies, in either small production units in Nottingham and Wales, or in her own Brighton based studio.
Ayten Gasson has also introduced a limited edition range of eco lingerie made using organic silk, and cruelty free peace silk pieces. Unlike the traditional method of silk production where the cocoon is boiled alive, peace silk allows the silkworm to emerge from their cocoon and live out their full life. The new line of ethical lingerie is not the first time the designer has worked with organic fibres. Ayten collaborated with ethical lingerie brand Enamore in 2009 to produce six collections of ethical underwear sets made using recycled vintage fabrics, organic silk and hemp.
Zur Website von Ayten Gasson »
Bitte vervollständigen Sie die rot markierten Felder.